Ms. Susan Adler, MA
CEO & President
Susan Adler is an experienced nonprofit professional who specializes in community engagement, communications, and fundraising. Sue has many professional accomplishments in the local community including establishing Savannah's Susan G. Komen Race for the Cure and fighting for Savannah's tiniest citizens as executive director of the Savannah Chapter of the March of Dimes. She also directed community outreach events for Savannah's Memorial Hospital, launching unique programs for the community.
She has served on several community boards including The Matthew Reardon Center for Autism, Horizons Savannah, and the Savannah chapter of Hadassah.
Currently she serves on the Visit Savannah board and is a member of the Downtown Rotary and the Chatham Commerce Club.
Sue holds a Bachelor of Arts degree from Goucher College and a Master of Arts in elementary education and teaching from the University of South Carolina – Beaufort.
Ms. Melanie Jordan
Controller
Melanie Jordan graduated Summa Cum Laude from Savannah State in 1997 with a Bachelor's degree in business administration and brings a vast array of business experience to Historic Savannah Foundation. After college, Jordan worked as an accountant for Dabbs, Hickman, Hill and Cannon, LLP assisting in audits, tax preparation and accounting services for various for profit and not-for-profit clients, and later as a contracted accountant with Arthur, Dana and Company. Jordan was subsequently hired as the controller at Ocean Plaza Beach Resort, where she was responsible for all financial reporting, budget preparation, accounts payable and payroll. Jordan also held the position of controller at the Jewish Educational Alliance and Savannah Jewish Federation, where she was responsible for all financial reporting, overseeing their budget process and maintaining restricted and unrestricted endowment activity. Before coming to HSF, she was the vice president of finance and administration at the United Way of the Coastal Empire, responsible for all financial reporting, budget preparation, oversight of building maintenance and rental, new hire onboarding and a staff of three, and also optimized the use of technology to automate many manual processes.
Mr. Ryan Jarles
Director of Preservation & Historic Properties
Ryan Jarles was born just outside of Nashville in the hills of Middle Tennessee, which is where his love for history began at the age of 12, when he began volunteering at The Hermitage – Home of Andrew Jackson. He moved to Savannah shortly after high school to pursue a BFA in Historic Preservation from SCAD. Prior to graduating, he completed two internships with the City of Nashville, Tennessee (Metropolitan Historic Zoning Commission, and the Metropolitan Historical Commission), as well as an internship with ACE AmeriCorps (American Conservation Experience).
Ryan has held a diverse portfolio of full-time positions in House Museums, the National Park Service (Fort Pulaski National Monument), the Chatham County – Savannah Metropolitan Planning Commission, and most recently the position of Preservation Planner for the Landmark Society of Western New York. These positions provided a broad view spanning hands-on preservation to preservation law and advocacy. He holds a true dedication to the communities he serves, believing that preservation must consider the full story.
Beyond his work with buildings and people, Ryan is also an advocate for land conservation and can often be found hiking and camping through various National Parks along the east coast with his dog, Sophia. He also enjoys spending as much time as he can in his second favorite city (after Savannah of course) – Salem, Massachusetts, which is the location of the largest collection of homes designed by his favorite architect and furniture designer, Samuel McIntire.
Ms. Colleen C. Reynolds
Assistant Director
Colleen Reynolds was born in Georgia and was raised in the historic bungalows of Arlington, Virginia with intermittent tours and travels in Europe with her family as an 'Army Brat.'  She made Savannah her home with her husband over 29 years ago and pursued a career in the southern hospitality industry.
Colleen's passion is working with people, bringing them together to create, to plan and to coordinate events and projects.  She thrives on collaborating with all stakeholders, ensuring the event experience makes a positive impact on all who attend while strengthening the organization's sense of purpose.  It's her sense of mission which drives her success. From working with group business within the hotel industry to building a successful couture interior design firm to managing the operations of a non-profit arts organization, to running an event company, Colleen is always making sure that personal connection is first, financial goals are met, trust is the foundation and tradition is honored.
She holds a Bachelor of Arts degree from Marquette University.
Colleen lives with her husband and puppies in Historic Gordonston. Her two daughters come home from college often to enjoy time together in nature, cooking, sharing a cup of coffee on their front porch and taking long walks around Savannah's squares.
Mr. James Finsie
Membership Associate
James Finsie was born in Atlanta and lived in Newnan, Georgia, before moving to Orlando, Florida at a young age. James went to the University of West Florida, where he earned his Bachelor of Arts degree in Communications. He brings with him unique experience from opportunities that include working in Yellowstone National Park and mentoring at a clinical school for youth that struggle with mental health issues.  Finsie also enjoys volunteering and has committed time and energy to many organizations, including Habitat for Humanity, Manna Food Bank, Miracle League, March of Dimes, Relay for Life, the Ronald McDonald House, and the Special Olympics.
Mr. Jeff Freeman
Assistant Director, Davenport House
Originally from Richmond, VA, Jeff has been at the Davenport House Museum since 2006. After a four year stint in the U.S. Army and a 15 year career in the technology field, Jeff decided to follow his passion for history and pursue a career as a museum professional. He holds a BA in History from University of Maryland University College.
Ms. Angela Kimball
Davenport House Museum Shop Manager
Angela Kimball earned her Bachelor of Science in chemistry from Wheaton College and has worked in many business development, management and sales roles. She has also been a small business owner and is familiar with all the facets of running an operation, from employee relations to health insurance, payroll and IT. She opened a store, Anthi, which specialized in artisan-made products to complement architecture in New Bedford, MA, and ran the Cape Cod Museum of Art for five years. In Savannah, Kimball previously served as the Paris Market weekend manager.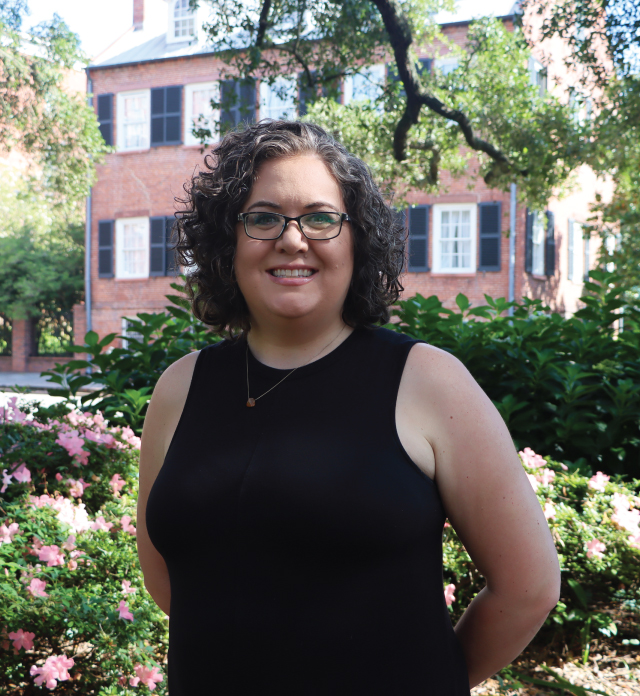 Ms. Sheena Fulkerson
Davenport House Museum Tour Coordinator
Sheena Fulkerson grew up in the mountains of western North Carolina and northeast Tennessee, instilling a deep passion for nature and history.  While moving around the country for her husband's career in the Army, she enjoyed the opportunity to provide a stable home during uncertain times, raising their three children, and fulfilling many volunteer opportunities.  Most notable was the two years she spent as a company Family Readiness Group (FRG) leader, where she was awarded recognition for her dedicated service at both a battalion and division level.  During this busy time, she also certified and worked as a birth doula with Birth Arts Institute and Doulas of North America (DONA).
Shortly after moving to the Savannah area in 2016, Sheena joined the volunteer force at the Davenport House Museum as a weekly docent and quickly filled the role of Tour Coordinator a few months later in early 2018.
Mr. Raleigh Marcell
Davenport House Museum Maintenance Technician
Raleigh Marcell has been the Davenport House Museum's maintenance technician, having seen the site through hurricanes, hosts of people, and change, since 2003.
His experience includes thirteen years as Maintenance Superintendent at Mount Carmel Academy and five years as the Maintenance Tech at Shadows-on-the-Teche, a National Trust for Historic Preservation property – both in New Iberia Louisiana.
Mr. Marcell is a professionally produced and published playwright.  His four published one-act plays have been performed by over 2,000 schools, theaters, and colleges in the USA, Canada, Australia, and Turkey.  His short screenplay, Carapaces, was produced by Inward Films in the UK. His feature screenplay Elsie Venner, adapted from the Oliver Wendell Holmes novel, has been twice optioned.
Since 2003, Raleigh has successfully written history theatre for the Davenport House Museum. In 2016 the Coastal Museums Association recognized him as an Individual of Excellence for his service to the Museum